Crab Stuffed Chicken Breasts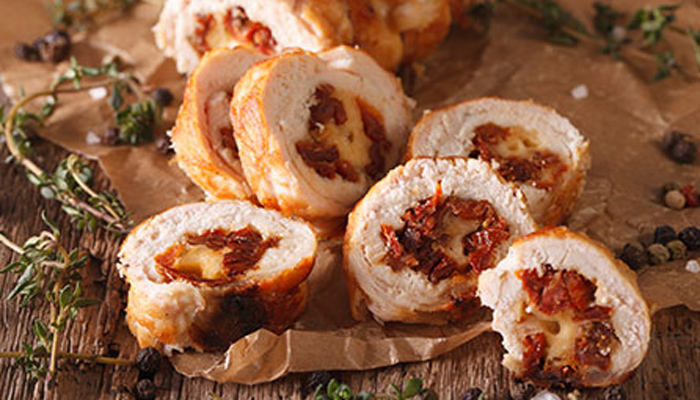 Prep Time: 15 minutes
Cook Time: 40 minutes
Total Time: 55 minutes
Servings: 4
Savor the flavors of Crab Stuffed Chicken Breasts, a scrumptious recipe featuring local Gerber's Amish Farm chicken breast, imitation crab, Swiss cheese, and diced pimientos, all baked to perfection in just 40 minutes.
Directions
Step 1
Preheat oven to 400° F.
Step 2
Pound Gerber's Chicken Breasts between 2 sheets of waxed paper until thin.
Step 3
In a skillet, sauté onion and mushrooms in butter until onion is transparent, about 5 minutes. Stir in flour and oregano and blend well.
Step 4
Combine the stock, milk and wine, and add to onions and mushrooms.
Step 5
Cook, stirring constantly until sauce is thick. Season with salt and pepper, stir in pimientos and set aside.
Step 6
Mix together 1/4 cup of the sauce, crab meat, parsley and bread crumbs. Spoon onto Gerber's Chicken Breasts.
Step 7
Roll up breasts and place them seam side down in a buttered casserole dish.
Step 8
Pour remaining sauce over the chicken and sprinkle with the cheese.
Step 9
Cover and bake for 25 minutes.
Step 10
Uncover and bake for 15 minutes longer.