Make-Ahead Breakfast Casserole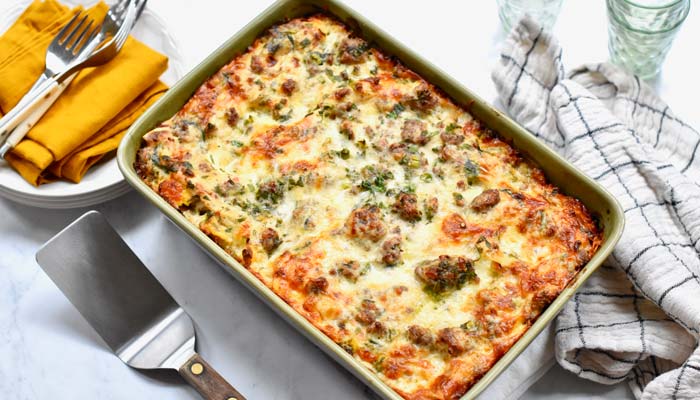 Prep Time: 40 minutes
Cook Time: 75 minutes
Total Time: 115 minutes
Servings: 10
Start your day with layers of golden brown sausage & gravy, fluffy scrambled eggs, Italian cheeses, and lasagna noodles baked until brown & bubbly.
Directions
Step 1
Saute the sausage and the white part of the onions over medium-high heat until the sausage is browned. Add in baby spinach leaves and cook until wilted. Turn the heat down to medium.
Step 2
Sprinkle the flour and nutmeg over the sausage mixture, stirring to blend well. Cook for a couple of minutes. While stirring, slowly pour milk into the skillet and cook until it starts to thicken. Turn heat to simmer and cook for a few additional minutes. Season with salt and pepper. Remove from heat.
Step 3
While sausage gravy is cooling, cook scrambled eggs. Set aside.
Step 4
Blend the cheeses together in one bowl.
Step 5
To assemble lasagna: Spray a 9 x 13-inch casserole pan* with cooking spray. Spoon 1/2 cup of the sausage gravy over the bottom in a thin layer. Arrange four noodles slightly overlapping to cover the bottom of the pan. Spoon 1/3 of the remaining sausage gravy over the noodles, add a sprinkle of green onion tops and chopped parsley, and 1/3 of the shredded cheese mixture.
Step 6
Add another layer of noodles, half of the remaining gravy mixture, all of the scrambled eggs, half of the remaining green onions, parsley, and shredded cheese.
Step 7
Add final layer of noodles, remaining gravy, a sprinkling of parsley and green onions (keep some back for garnish after cooking), and the rest of the shredded cheeses.
Step 8
Cover the uncooked lasagna with plastic wrap. Refrigerate overnight to cook the next morning.
Step 9
To cook, preheat the oven to 375 degrees. Remove plastic from lasagna, cover with foil sprayed with cooking spray and bake covered for 45 minutes. Uncover and bake until the lasagna is slightly browned and the middle is bubbly another 20-30 minutes. Let sit for 10-15 minutes, then serve.