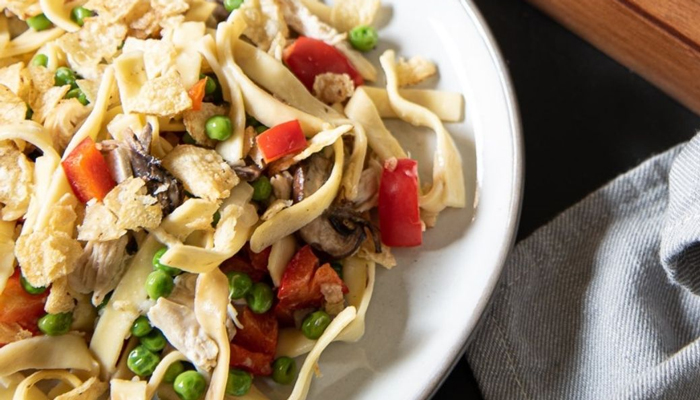 Prep Time: 15 minutes
Cook Time: 40 minutes
Total Time: 55 minutes
Servings: 4
Our Chicken Noodle Casserole is a complete meal in one pan with chicken, vegetables, homemade egg noodles with a creamy sauce, and topped with crushed potato chips. It is the perfect family dinner recipe that is sure to please the whole crowd!
Directions
Step 1
Preheat oven to 350°F. Spray 9x13 casserole dish with cooking spray.
Step 2
Boil Noodles al dente, dain and place in a large bowl.
Step 3
Add cooked chicken, onion, red bell peppers, mushrooms, peas, cream of mushroom soup, milk, salt, and pepper. Mix evenly throughout Noodles.
Step 4
Bake at 350° for 30 minutes, covered with aluminum foil.
Step 5
Remove foil, spread crushed Potato Chips, and bake another 10 minutes or until golden brown.
Step 6
This dish is best served hot, but let it set a minute before scooping onto plates.