CF Burger Egg Nog, De Luxe, Old Fashioned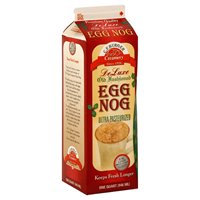 $3.99
1.0 qt.
CF Burger Egg Nog, De Luxe, Old Fashioned
Product Details
Egg Nog, De Luxe, Old Fashioned
Ultra-pasteurized. Foil lined premium pack to ensure freshness. Keeps fresh longer. Premium quality. Grade A. Homogenized. Great care is taken to ensure the flavor and freshness of C.F. Burger Creamery Egg nog. We start by using only farm fresh milk and rich cream, add eggs, sugar 'n spice and flavorings then ultra-pasteurize it, a specialized heat process which assures a fresh, long life dairy product when properly refrigerated. No artificial preservatives are used. Then it's placed in our exclusive foil-lined carton that provides a super-strong, light-tight barrier to seal in the freshness and flavor. At C.F Burger Creamery, we take flavor and freshness seriously. You can taste the difference. Since 1926, C.F. Burger Creamery has produced premium-quality dairy specialties. In a day when rich taste seems to be missing in many products, C.F. Burger Creamery products still deliver old-fashioned flavor. It's the flavor that's been enjoyed for generations.
Dairy
UPC: 00070262003187