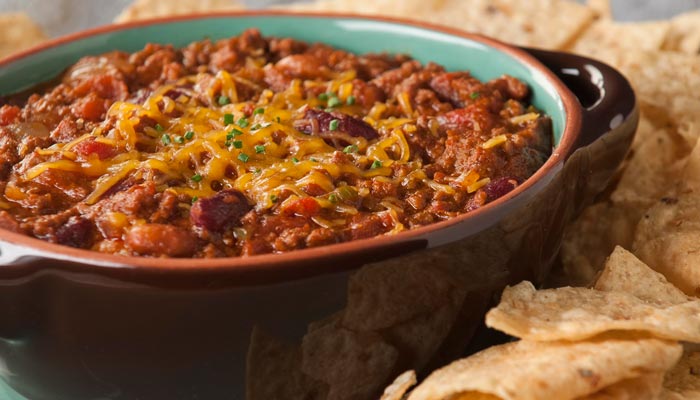 Prep Time: 15 minutes
Cook Time: 135 minutes
Total Time: 150 minutes
Servings: 8
Easy homemade Ground Beef Chili recipe is a hearty, winning meal for a crowd. Make this classic recipe with beans, tomatoes, peppers, and blend of spices.
Directions
Step 1
In a large heavy-bottom pot, add ground beef, onion, and garlic over medium heat. Cook, breaking up large pieces until no pink remains, approximately 10 minutes. Drain excess fat, if desired.
Step 2
Add chili powder, cumin, ancho pepper, jalapeño, and salt. Simmer for 5 minutes, stirring frequently. Stir in tomatoes, sauce, beans, and paste. Bring to a boil, reduce heat to low, and simmer for 2 hours, occasionally stirring to prevent sticking. Yields approximately 3 quarts.
Cook's Notes
Top with shredded sharp cheddar, sour cream, and diced green onions.