Chia Yogurt Cantaloupe Boats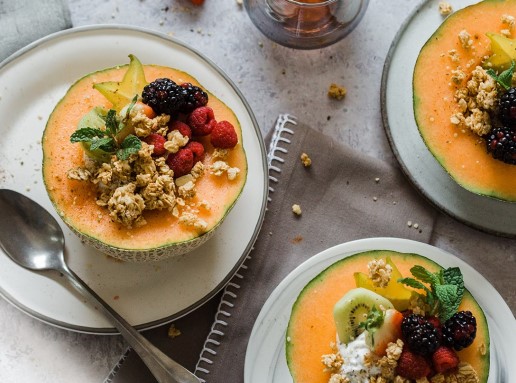 Prep Time: 10 minutes
Servings: 2
These cantaloupe halves are filled with protein-packed Greek yogurt and topped with fresh berries and crunchy granola. It's the perfect healthy start to your day or a delicious addition to your weekend brunch plans!
Directions
Step 1
Slice cantaloupe in half and scoop out the seeds. Discard seeds and pat melon dry.
Step 2
In a large bowl, stir together 1 cup vanilla Greek yogurt and 3 Tbsp of chia seeds. Scoop into the center of each melon half.
Step 3
Fill with 1-1/4 cups fresh fruit or berries (blueberries, blackberries, strawberries, raspberries, banana slices, etc) and top with 1/2 cup granola.