Slow Cooker Shredded Beef Tacos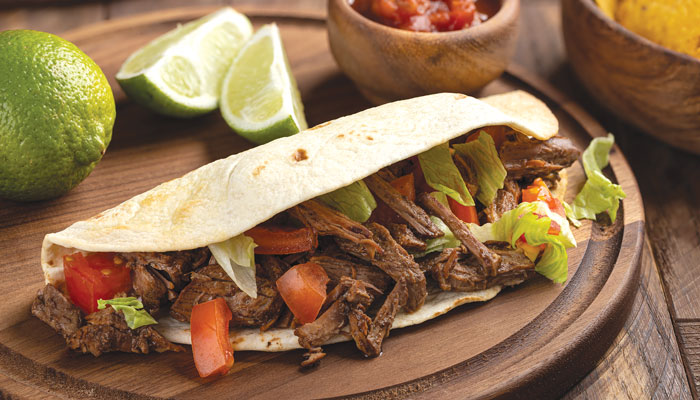 Prep Time: 15 minutes
Cook Time: 240 minutes
Total Time: 255 minutes
Servings: 8
Slow Cooker Shredded Beef Tacos are easy to make and a family favorite. We love this Slow Cooker Shredded Beef Taco recipe because we can let the crock pot do the hard work and then just assemble your tacos and dig in.
Directions
Step 1
Season the chuck roast with salt and pepper to taste.
Step 2
Over medium-high heat, sear the boneless chuck roast on all sides in oil until browned, about 2 minutes per side. Remove and set aside.
Step 3
Add cayenne pepper spice, cumin, smoked paprika, and garlic to the beef broth, stir to cominbe. Add tomato paste, jalapeno, and lime juice and stir to combine.
Step 4
Transfer boneless chuck roast mixture slow cooker and place onions on top.
Step 5
Pour the beef broth mixture over the roast and cook on low for 6-8 hours or high for 3-4 hours.
Step 6
Shred the beef with two forks and toss to coat with the juices.
Step 7
Serve hot with tortillas, lettuce, cheese, tomatoes, and other taco toppings of your choice.