Garlic Butter Chicken and Steak Kabobs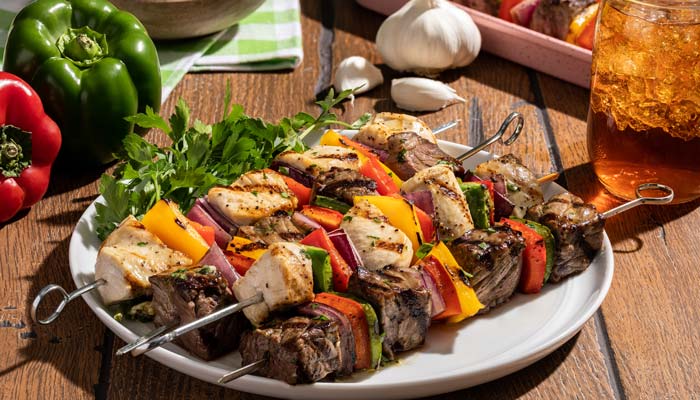 Prep Time: 20 minutes
Cook Time: 10 minutes
Total Time: 30 minutes
Servings: 6
Get the best of both worlds with tender & savory delectable Garlic-Butter Chicken and Steak Kabobs.
Directions
Step 1
In a small bowl, mix together 2 teaspoons of salt, 1 teaspoon black pepper and garlic powder. Place the chicken and steak in two separate bowls and season each with half of the spice mixture. Toss to combine and refrigerate for 30 minutes. Meanwhile, preheat your grill to medium high heat.
Step 2
Thread steak, bell peppers and onion onto half of the skewers, alternating between meat and vegetables. Thread chicken, bell peppers and onion onto remaining skewers. Brush skewers evenly with olive oil.
Step 3
Grill skewers for 2 minutes on each side. Remove when steak reaches an internal temperature of 130°F and chicken reaches an internal temperature of 165°F.
Step 4
While skewers cook, heat butter over medium heat in a small skillet until foamy. Add garlic and remaining salt and pepper. Stir and cook for 1 minute, or until fragrant. Remove from heat and brush butter over cooked skewers.
Step 5
Garnish with parsley and serve.