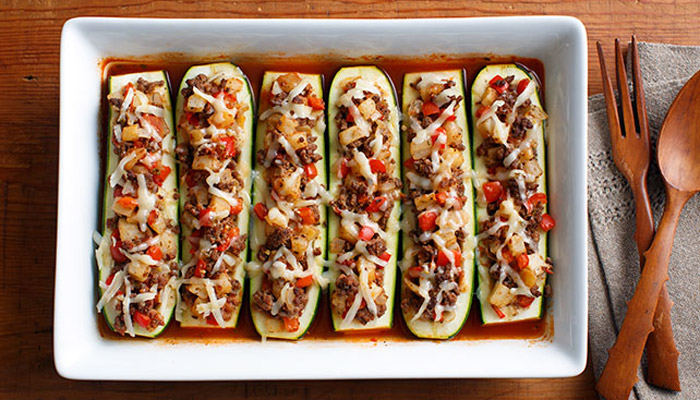 Prep Time: 30 minutes
Cook Time: 40 minutes
Total Time: 70 minutes
Servings: 12
Discover a baked stuffed zucchini recipe featuring beef, hash browns and sauce.
Directions
Step 1
Heat oven to 350ºF.
Step 2
Cut zucchini lengthwise in half; scoop out and discard centers, leaving 1/4-inch-thick shells.
Step 3
Cook potatoes in hot oil in large skillet on medium heat 12 to 15 min., stirring occasionally.
Step 4
eanwhile, brown meat in separate large skillet. Add onions, peppers and garlic; cook 3 min. Drain; stir in potatoes, 1/2 cup pasta sauce, seasoning and 1-1/2 cups cheese.
Step 5
Mix 1/2 cup hot water and remaining pasta sauce; divide evenly onto bottoms of 2 (13x9-inch) baking dishes. Spoon about 1/2 cup meat mixture into each zucchini shell. Place stuffed zucchini in baking dishes; cover with foil. Bake 30 min.
Step 6
emove foil; sprinkle with remaining cheese. Bake 10 min. or until zucchini is tender.