Meatless Sausage Breakfast Scramble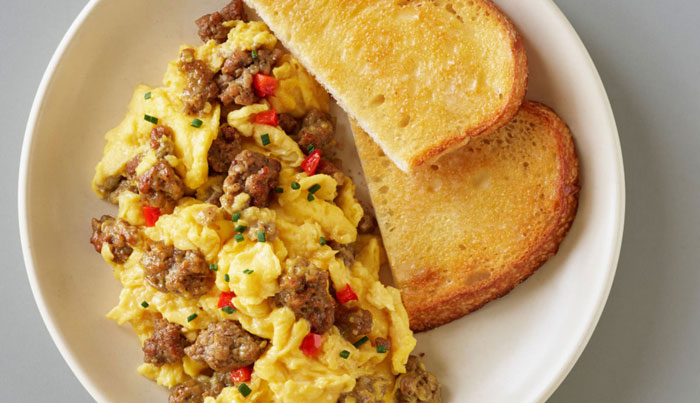 Prep Time: 10 minutes
Cook Time: 5 minutes
Total Time: 15 minutes
Servings: 6
This Impossible™ Sausage Breakfast Scramble recipe uses peppery sausage made from plants scrambled with eggs, a generous amount of cheese plus bright red bell pepper, and freshly chopped chives.
Directions
Step 1
In a medium skillet over medium heat, add one tablespoon of the butter. Crumble and cook Impossible Sausage Made From Plants (Savory) until browned and seared. Remove from pan and reserve in a separate bowl. Wipe the pan clean with paper towels, and use to the cook eggs.
Step 2
Whisk eggs and milk together until well combined and airy in a bowl. Season with salt and pepper. Add shredded cheese, and mix well. In the skillet over medium-low heat, add butter and melt. Pour in egg mixture and scramble.
Step 3
Add the Impossible Sausage When eggs begin to set but still appear a little wet, remove skillet from heat. Add the sausage crumbles and red bell pepper to skillet and fold into eggs. Be careful not to over mix.
Step 4
To serve, garnish the scramble with chopped chives. Serve with sliced toast. Enjoy!