Bacon Dutch Baby Pancake
published Wednesday, February 23, 2022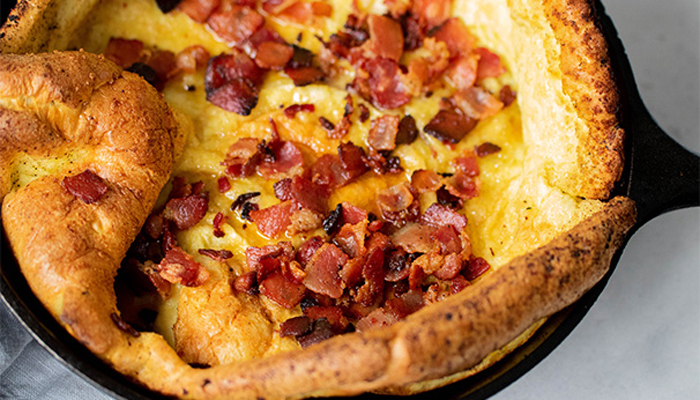 Prep Time: 10 minutes
Cook Time: 20 minutes
Total Time: 30 minutes
Servings: 4
This savory Dutch baby is a thick, puffy pancake with the salty and smoky flavors of bacon and the sweetness of maple syrup.
Directions
Step 1
Preheat oven to 425° F.
Step 2
Combine eggs, milk, flour, butter, salt and pepper in a medium bowl and whisk until smooth.
Step 3
Place remaining butter in a cast-iron or oven-proof skillet and place in the preheated oven for 3-5 minutes or until butter is melted.
Step 4
Pour the batter into the hat pan and bake for 18-20 minutes, or until golden brown.
Step 5
Remove from oven and add bacon and maple syrup.
Step 6
Return to oven and allow toppings to warm for 3-5 minutes.
Step 7
Cut and serve immediately.