English Muffin Breakfast Pizza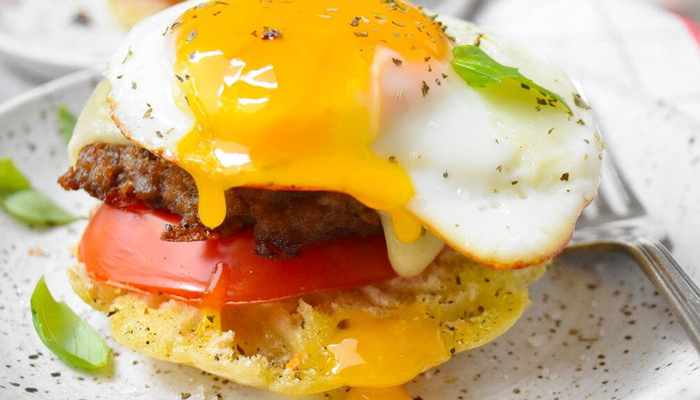 Prep Time: 15 minutes
Cook Time: 15 minutes
Total Time: 30 minutes
Servings: 4
Enjoy the taste of hot pizza for breakfast! Sausage patties fried crispy brown on top of a toasted English muffin that's sprinkled generously with pizza seasoning, melted mozzarella, and basil, topped with a fried egg… It's Pizza for Breakfast!
Directions
Step 1
Form bulk Swaggerty's Farm® sausage into 8 hand-made patties, just like burger patties.
Step 2
Fry sausage patties until browned. Set aside to drain on a paper-towel-lined plate.
Step 3
Toast English Muffins halves in a toaster or oven and spread each half with spreadable butter.
Step 4
Cook eggs to your preference…sunny-side up, fried or scrambled. Set aside.
Step 5
Preheat oven to 375° F.
Step 6
Place toasted muffin halves, cut side up, on a baking sheet. Sprinkle generously with pizza seasoning. Top with a slice of tomato.
Step 7
Add sausage patties and top each with a folded slice of mozzarella cheese. Sprinkle again with pizza seasoning. Return to oven to melt cheese for about 1-2 minutes.
Step 8
Remove from oven when cheese is melted. Sprinkle the tops with fresh basil and egg. Sprinkle on more basil, salt & pepper to taste, and a pinch of red pepper flakes, if desired for a delicious layered English muffin and sausage breakfast!
Cook's Notes
This recipe makes 8 open-face breakfast pizzas. The serving size is 2 pizzas.