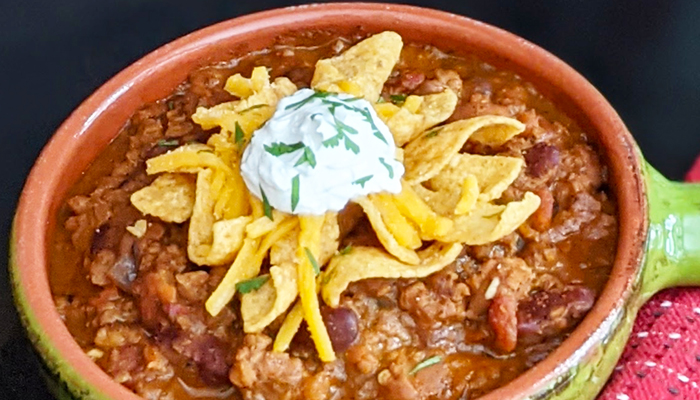 Prep Time: 10 minutes
Cook Time: 30 minutes
Total Time: 40 minutes
Servings: 4
This plant-based vegan chili recipe is full of flavor from bold spices and chipotle chilis. It's great for serving on burgers, dogs, or just in a big bowl with lots of toppings.
Directions
Step 1
Heat oil in a large pot or Dutch oven over medium-high heat until shimmering. Add ground be'f and sauté until browned and heated through about 4 minutes.
Step 2
Meanwhile, combine garlic, onion and carrot in a food processor and pulse to a coarse puree.
Step 3
Add carrot, garlic, and onion mixture to pot with grounds and continue to cook, stirring frequently, until heated through about 4 minutes.
Step 4
Add salt, pepper, chili powder, cumin, smoked paprika, brown sugar, chipotles, hot sauce, vinegar and corn meal and stir to combine.
Step 5
Add broth, Ro*Tel® and beans to pot, stirring to combine. Bring to a boil, reduce heat and simmer 30 minutes to allow flavors to develop.
Step 6
Serve hot with chili toppings, on a burger, hot dog, or fries. Enjoy!