Sizzling Sausage and Veggie Bake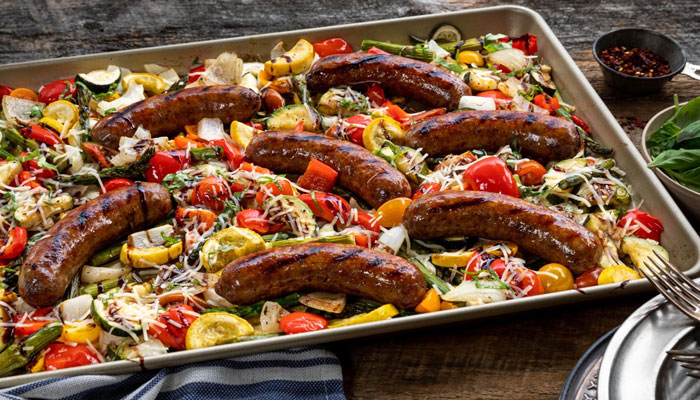 Prep Time: 15 minutes
Cook Time: 15 minutes
Total Time: 30 minutes
Servings: 6
On the grill or in the oven, our Sizzling Sausage and Veggie Bake recipe is simple to make and nutritious! Fill up a sheet pan with Johnsonville® Fresh Italian Sausage Links, asparagus, onion, squash, red bell pepper and cherry tomatoes; sprinkle with fresh basil and drizzle with balsamic glaze for a tantalizing taste bud experience.
Directions
Step 1
Preheat grill to medium-high heat (or oven to 375° F).
Step 2
Prepare sausage according to package directions on grill or stove-top till it reaches 146°F.
Step 3
In a large bowl, combine the onion, asparagus, squash, zucchini, pepper and garlic; toss with olive oil. Spoon onto a sheet pan.
Step 4
Grill or place in oven for 10 minutes; add the tomatoes and grill an additional 5 minutes.
Step 5
Toss with basil, salt, pepper and crushed red pepper.
Step 6
Place cooked sausage on top of vegetables to serve.
Step 7
Drizzle with balsamic glaze and sprinkle with shredded Parmesan cheese.
Cook's Notes
This recipe can be prepared using JOHNSONVILLE® Fresh Italian Hot Sausage Links or Fresh Italian Mild Sausage Links.