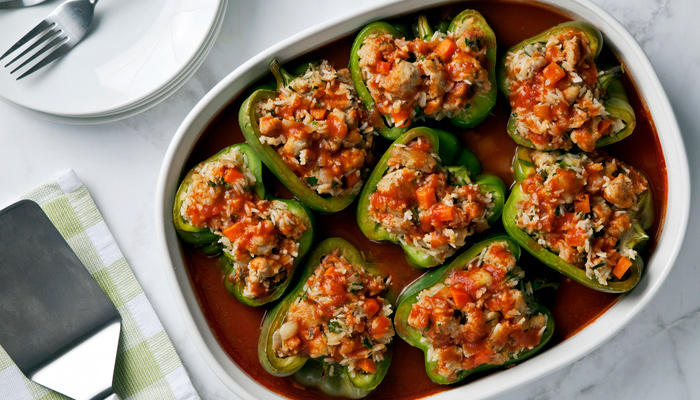 Prep Time: 30 minutes
Cook Time: 110 minutes
Total Time: 140 minutes
Servings: 4
Our Turkey Stuffed Peppers are easy to make for a healthy dinner that the family will love! Full of ground turkey, jasmine rice, cheese and extra veggies!
Directions
Step 1
Prepare rice according to package directions; set aside. Preheat oven to 325°F. Heat oil in medium skillet over medium heat. Cook and stir garlic 30 seconds. Stir in onions and carrots. Cook and stir 3 minutes. Spoon mixture into large bowl.
Step 2
Add turkey, ¾ cup broth, rice, cheese, parsley, bread crumbs, eggs, sage and thyme; mix well. Divide mixture evenly among pepper halves. Place filled peppers in large baking dish.
Step 3
Blend tomato sauce and remaining 2 cups broth in large bowl. Stir in bay leaves. Spoon sauce evenly over and around peppers.
Step 4
Bake 1¼ to 1½ hours or until peppers are tender. Remove and discard bay leaves before serving.