BBQ Meatloaf Meatballs
published Friday, May 7, 2021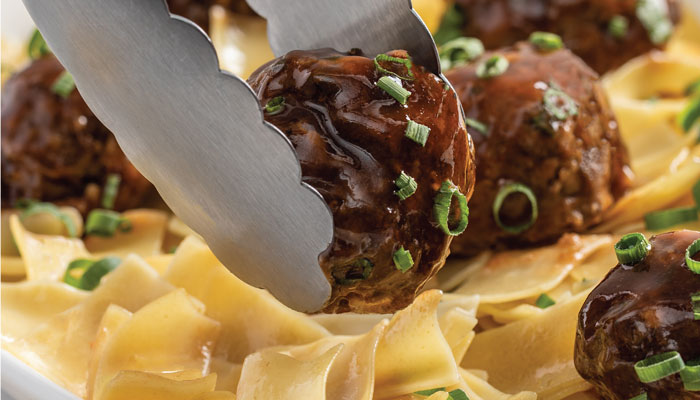 Prep Time: 10 minutes
Cook Time: 45 minutes
Total Time: 55 minutes
Servings: 6
Tender and juicy on the inside with a nice BBQ sauce glaze on the outside, everyone will reach for seconds of our BBQ Meatloaf Meatballs. Enjoy as an appetizer or over egg noodles for a delicious comfort food year-round.
Directions
Step 1
Preheat oven to 350°F.
Step 2
In a large mixing bowl, combine ground beef, eggs, onion, garlic, scallions, bread crumbs, meatloaf seasoning mix and 1/4 cup BBQ sauce.
Step 3
Roll mixture into 1 ½"-balls and place in a 13"x9" casserole dish.
Step 4
Pour remaining BBQ sauce over meatballs, then bake for 45 minutes, or until no longer pink inside.
Step 5
Garnish with extra scallions and serve with Food Club Extra-Wide Egg Noodles.