Breakfast Sausage Croissant Bake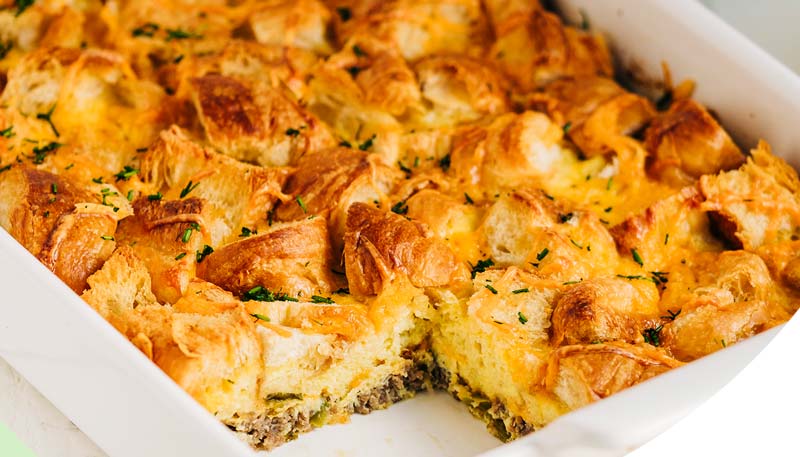 Prep Time: 15 minutes
Cook Time: 40 minutes
Total Time: 55 minutes
Servings: 8
This Breakfast Sausage Croissant Bake whips up in just 15 minutes to be baked immediately or the next day. The combination of sausage, eggs, and croissants makes it a crowd-pleaser for a weekend brunch or special holiday breakfast.
Directions
Step 1
Preheat oven to 350° F.
Step 2
Heat olive oil in a large skillet over medium heat. Add the onion and bell pepper to the pan, stirring frequently until the onion is tender.
Step 3
Add the sausage to the pan, and brown and crumble the meat until cooked through. Remove pan from heat.
Step 4
In a medium-sized mixing bowl, combine the egg, milk, mustard, salt, and pepper. Whisk until smooth and well combined.
Step 5
Prepare a 9x13" casserole dish by spraying with cooking spray.
Step 6
Assemble the casserole by transferring the sausage mixture the bottom of the pan and pouring the egg mixture over the sausage.
Step 7
Sprinkle 1 cup of the cheese over the casserole and top with cut pieces of croissant. Gently press the croissants into the egg just enough to make sure the croissants can absorb some of the egg while baking and top with the remaining 1 cup cheese. Cover the pan with foil.
Step 8
Bake for 30 minutes. Remove the foil and bake an additional 5-10 minutes or until the tops of the croissants are golden brown. The middle should be firm and starting to puff up a bit.