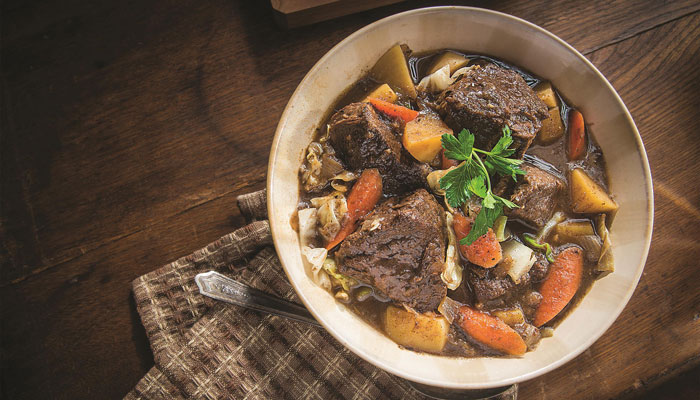 Rich and hearty, Irish Beef and Brew Stew is a real crowd pleaser. Make this recipe for St. Patrick's Day or to warm up with when it's cold outside.
Directions
Step 1
Season chuck roast cubes with 1-teaspoon salt and 1/2-teaspoon pepper.
Step 2
In a large braising pot or Dutch oven, heat oil over medium high. Working in 2 batches, sear cubes until well browned; transfer from pan to clean plate.
Step 3
Reduce heat to medium low and stir onion, garlic, bay leaves and thyme into pan. Sauté for 2 minutes, scraping brown bits from bottom of pan. Top vegetables with flour and sear 2 more minutes while stirring. Pour in beer, beef stock, Worcestershire and remaining 1-teaspoon salt and 1/2-teaspoon pepper; turn to medium-high heat and bring to a boil. Stir in reserved roast cubes, reduce heat to low, cover and simmer 1 hour.
Step 4
Stir in cabbage, potatoes and carrots. Simmer, covered 1 more hour.
Step 5
Serve garnished with parsley.