Sweet Noodle Kugel Muffins
published Monday, March 1, 2021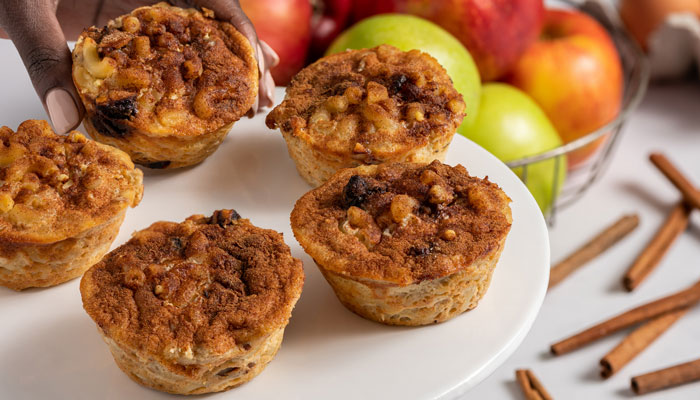 Cook Time: 25 minutes
Total Time: 25 minutes
Servings: 24
Sweet Noodle Kugel Muffins are ideal for lunch, a meatless side dish or hearty snack during Passover time or any time of year.
Directions
Step 1
Preheat oven to 350°F. Lightly coat 2 muffin tins with nonstick cooking spray.
Step 2
Cook macaroni in large pot of boiling water for 10 minutes or until tender. Drain and return to pot.
Step 3
Use a food processor or blender to combine applesauce, cottage cheese, sour cream, cream cheese, eggs, 1 cup of sugar, vanilla, and salt. Process until smooth.
Step 4
Add cottage cheese mixture to macaroni and toss to combine. Stir in chopped chocolate and nut bars.
Step 5
Divide mixture evenly among muffin cups.
Step 6
In a small bowl, whisk together remaining 1/4 cup sugar with ground cinnamon. Sprinkle a teaspoon of mixture over each kugel muffin.
Step 7
Bake 25 minutes, or until muffins are set in center and light golden brown on top. Serve with syrup.
Cook's Notes
Makes 2 trays of standard size muffins for a total of 24 muffins.