Homemade Beef and Vegetable Soup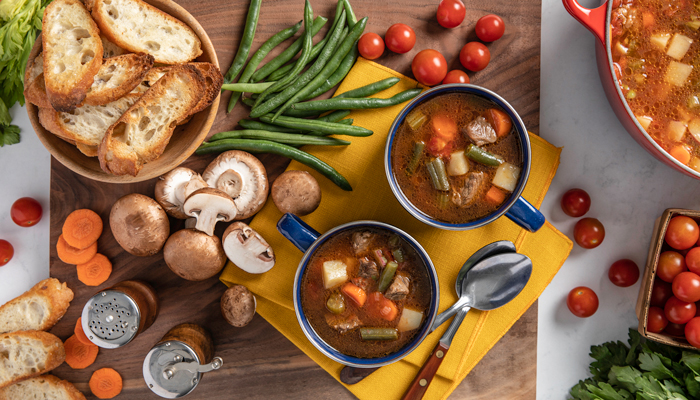 Prep Time: 15 minutes
Cook Time: 80 minutes
Total Time: 95 minutes
Servings: 10
Our Homemade Beef and Vegetable Soup is hearty, filling, and always a family favorite. With just 15 minutes of prep time, you can have this soup ready to simmer on the stove for a savory, comforting meal to warm your family on a chilly night.
Directions
Step 1
Season beef with salt and pepper.
Step 2
Heat olive oil in a large pot over medium-high heat.
Step 3
Brown meat on all sides, cooking in batches if necessary.
Step 4
Add onions, carrots, celery and thyme. Cook, stirring frequently, until vegetables begin to soften, about 10 minutes.
Step 5
Add diced tomatoes and broth. Bring to a boil and reduce heat to low. Simmer, covered for 30 minutes.
Step 6
Add potatoes and continue cooking for another 20 minutes, or until potatoes are tender. Stir in mixed vegetables and continue cooking for another 10 minutes.
Step 7
Garnish with parsley and season to taste with more salt and pepper before serving.