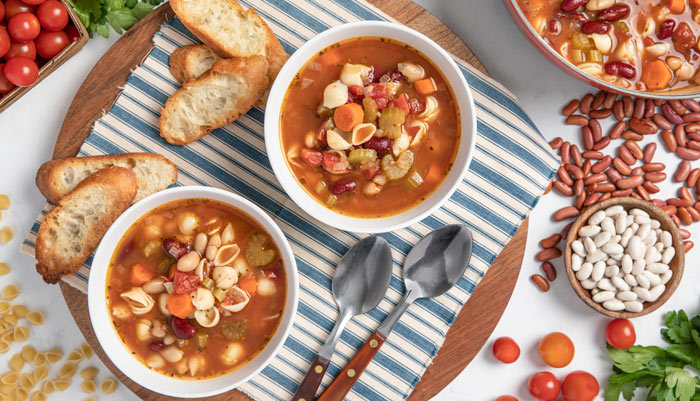 Prep Time: 15 minutes
Cook Time: 30 minutes
Total Time: 45 minutes
Servings: 6
Our Vegan Minestrone Soup is loaded with garden vegetables, beans, spices and pasta for a hearty soup that is simple and easy to make. Hearty and veggie-packed, this delicious soup is the perfect comfort food for a quick and easy dinner or lunch.
Directions
Step 1
Heat olive oil in a large pot over medium-high heat. Add onion, carrots, celery, salt,pepper and oregano and sauté for 10 minutes, or until vegetables have begun to soften.
Step 2
Add vegetable broth, tomatoes, kidney beans and cannellini beans. Bring to a boil and reduce heat to medium-low. Simmer for 10 minutes, uncovered. Add pasta and continue to cook for 6 to 8 minutes, or until pasta is tender.
Step 3
Stir in chopped parsley and season with more salt and pepper, to taste.
Cook's Notes
This soup is more like a stew. If you like your soup thinner, add another can of vegetable broth or double with another carton.