Watermelon Summer Salad Recipe
published Friday, May 29, 2020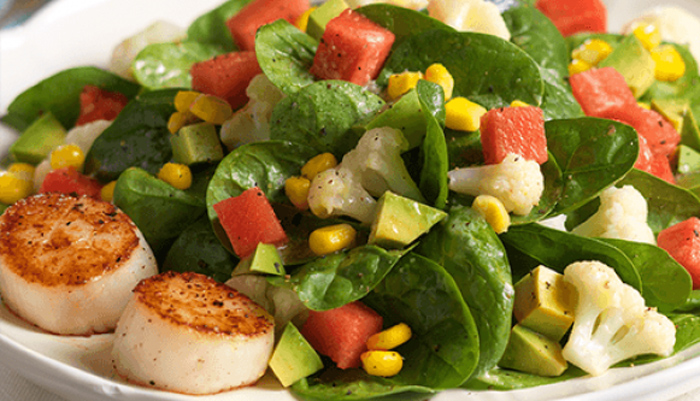 Prep Time: 10 minutes
Cook Time: 5 minutes
Total Time: 15 minutes
Servings: 1
A light and fresh summer salad with watermelon, sweet corn, cauliflower and avocado.
Directions
Step 1
Bring a medium pot of water to a boil.
Step 2
When boiling, add the corn and cauliflower. Cook for approximately 3 minutes, until the starchiness is out of the corn.
Step 3
When the corn and cauliflower are done cooking, transfer to an ice bath to stop the cooking process. Drain off water and ice, set aside.
Step 4
In a large mixing bowl, toss spinach, corn, cauliflower, avocado and watermelon with the dressing until well coated.
Step 5
Season scallops with salt and pepper.
Step 6
Coat a large, heavy sauté pan with extra virgin olive oil over medium heat. Cook scallops in pan until they are golden brown on one side, about 2 minutes.
Step 7
Turn and brown on the other side, about 2 minutes. When finished cooking, serve on top of the salad or on the side.