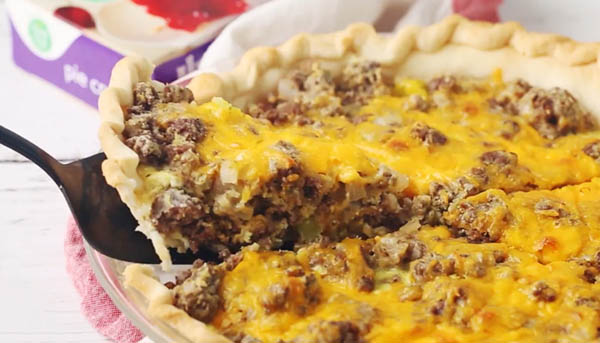 Prep Time: 20 minutes
Cook Time: 30 minutes
Total Time: 50 minutes
Servings: 6
This fast and easy meal is a favorite for busy families. It combines all the flavors of a cheeseburger right down to pickles in a pie crust. This simple yet comforting dinner is great for busy weeknights. Serve with a fresh salad for a complete meal.
Directions
Step 1
Heat oven to 400°F. Spray 9-inch glass pie plate with cooking spray. Set pie crust on counter to thaw.
Step 2
Brown ground beef with onion until beef is browned and cooked through. Drain grease.
Step 3
Stir in pickles and mustard.
Step 4
In a small bowl, whisk together flour, salt, pepper, and baking powder.
Step 5
Add flour mixture to beef mixture, stir until combined.
Step 6
Unroll pie crust in pie pan, place in pie pan and flute the pastry edges.
Step 7
Add meat mixture to pie crust.
Step 8
In another bowl, whisk together cheddar cheese, milk, and egg.
Step 9
Spread cheese mixture over meat mixture. Cover with aluminum foil.
Step 10
Bake 15 minutes covered. Remove cover and cook an additional 15 minutes until knife inserted in center comes out clean.
Step 11
Serve hot, cut into slices.
Cook's Notes
Make it a Bacon Cheeseburger Pie by adding cooked, chopped bacon!