Shrimp and Salad Stuffed Pitas Recipe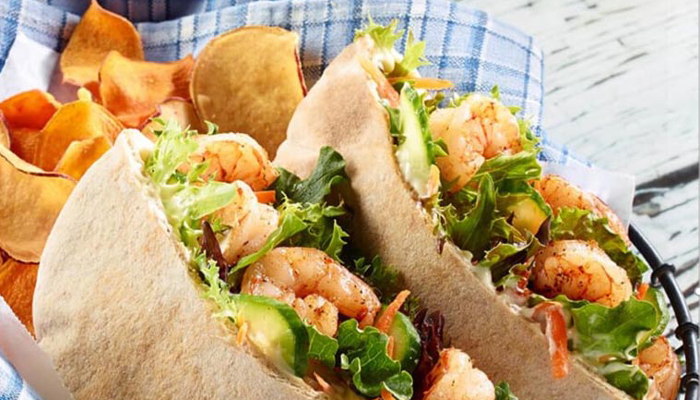 Prep Time: 15 minutes
Cook Time: 5 minutes
Total Time: 20 minutes
Servings: 4
Grab a pita and stuff it with succulent shrimp and fresh vegetables for a quick and delicious meal. Full of flavor, you won't believe it is healthy. Make ahead for lunch tomorrow.
Directions
Step 2
Thaw shrimp in colander under cold running water; remove tails and pat dry on paper towels.
Step 3
Place shrimp in a medium bowl and toss with oil.
Step 4
Combine paprika, salt and pepper, sprinkle over shrimp and toss again to coat.
Step 5
Place shrimp on broiler pan and broil, 4 inches from heat source, 2 to 3 minutes, turn and continue cooking 1 to 2 minutes or until shrimp are opaque.
Step 6
Place spring mix, cucumber and carrot in a large bowl and toss.
Step 7
Combine mayonnaise, lemon juice and lemon rind; spread 1 tablespoon inside each pita half.
Step 8
Fill each pita half with 1/2 cup salad and 4 - 5 shrimp.