Blue Agave Sriracha Baby Back Ribs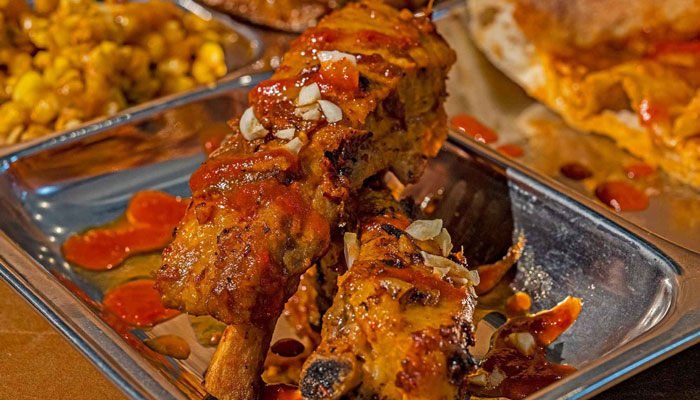 Prep Time: 5 minutes
Cook Time: 90 minutes
Total Time: 95 minutes
Servings: 4
The Yellowbird Classic Blue Agave Sriracha Baby Back Ribs recipe offers a delectable combination of savory, sweet, and juicy flavors, creating a melt-in-your-mouth protein dish perfect for potluck gatherings. This crowd-pleasing, umami-rich recipe is sure to earn you admiration and praise at any Lunch Club event.
Directions
Step 1
Add 4 quarts of water and a ¼ cup salt to a large stock pot over medium–high heat and bring to a boil.
Step 2
Cut rib meat equal distance in between each bone and add to the stock pot of salt water. Reduce heat to medium–low and boil for 1 hour. Once done, remove ribs from the pot and set aside to dry. Ribs can be boiled a day in advance and stored in the fridge.
Step 3
Mince fresh garlic and set aside.
Step 4
In a large wok over medium–high to high heat, add oil and heat to approx 500°.
Step 5
Add minced garlic to hot wok and cook until garlic is golden brown. Then add 4 boiled ribs and a heavy drizzle of Yellowbird Blue Agave Sriracha and toss to coat ribs in sriracha, garlic, and oil. Cook for about 2 minutes on both sides, tossing occasionally, until brown and crispy on the outside.
Step 6
Remove ribs from the wok and plate. Spoon fried garlic from wok on top of plated ribs, add a second heavy drizzle of Yellowbird Blue Agave Sriracha to ribs and voila! Serve and savor.