Carrot Cake Bread Pudding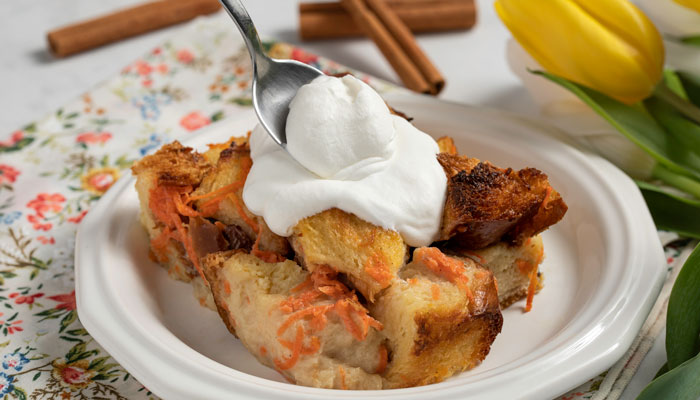 Prep Time: 10 minutes
Cook Time: 75 minutes
Total Time: 85 minutes
Servings: 6
Our Carrot Cake Bread Pudding is an easy homemade dish that uses brioche bread as a delicious shortcut while still getting the traditional carrot cake flavors.
Directions
Step 1
Preheat oven to 350°F and spray a cake pan with nonstick cooking spray. Spread bread cubes in an even layer on a rimmed baking sheet and toast in the oven for 20-30 minutes, or until lightly browned. Remove from oven and set aside to cool. Once cool, transfer bread to prepared cake pan.
Step 2
In a large bowl, whisk together eggs, condensed milk, whole milk, cinnamon, nutmeg, and salt until smooth. Fold in grated carrots and raisins. Pour mixture over bread cubes, pressing down with a spatula to promote absorption.
Step 3
Drizzle melted butter over bread pudding and sprinkle with sugar. Bake for 30-45 minutes, or until golden-brown and set in the middle.
Step 4
Let cool at least 20 minutes before slicing and serving with whipped topping.