Giant Pork Tenderloin Sandwiches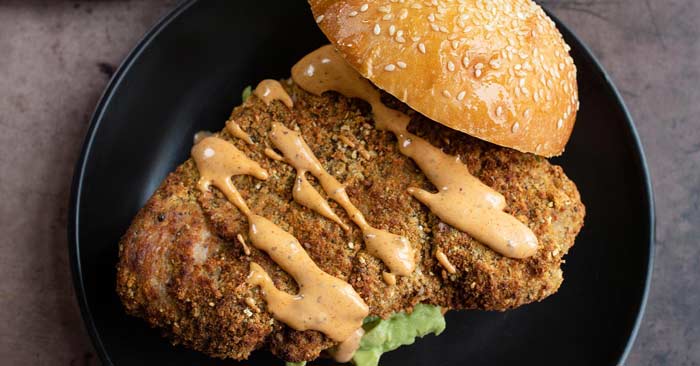 Prep Time: 30 minutes
Cook Time: 8 minutes
Total Time: 38 minutes
Servings: 8
All the flavor and fun of a classic breaded Pork Tenderloin sandwich without the fuss of deep frying. Air-fry or bake this recipe!
Directions
Step 1
Cut tenderloin into 8 equal size chunks and pound each one out to ½ inch thickness.
Step 2
Divide your 2 Tbsp salt, 2 Tbsp pepper and adobo seasoning equally between the flour and panko and mix.
Step 3
In 3 step process, dip tenderloin in flour, followed by egg, and then in panko.
Step 4
Air-fry at 380°F for 8 minutes.
Step 5
For Smashed Avocados: Cut the avocado in half and carefully remove its stone, then scoop out the flesh into a bowl. Mash with a fork to your desired texture. Season 1 tsp salt, 1 tsp pepper, juice from 2 limes, and diced jalapeno peppers.
Step 6
Spread smashed avocado on the bottom bun, and top with cooked pork tenderloin, aioli sauce, and top bun.
Cook's Notes
Instructions below are for air-frying. You may also bake with the following instructions: Preheat oven to 350° convection or 375° conventional. Place 4 tablespoons butter on a large baking tray and place in the oven for a few minutes to melt the butter. Place in oven for 20 minutes. Flip and bake for another 10 minutes until golden brown.