Glazed Meatloaf with Mashed Potatoes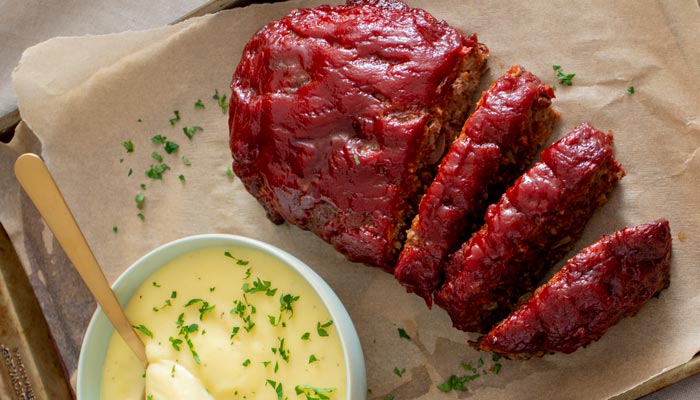 Prep Time: 20 minutes
Cook Time: 35 minutes
Total Time: 55 minutes
Servings: 4
Traditional meatloaf is taken to the next level with the addition of TRUFF glaze. Combining TRUFF Original Hot Sauce, ketchup, Worcestershire sauce, and brown sugar, this glaze is both sweet and spicy. This tangy sauce is the perfect complement to the already delicious meatloaf. Everyone at your dinner table will be asking for seconds!
Directions
Step 1
Preheat oven to 400°F.
Step 2
Heat oil in a skillet over medium-high heat.
Step 3
Once heated, add garlic and onions, and sauté until fragrant and tender, about 2-3 minutes.
Step 4
Remove from the heat and place in a large bowl.
Step 5
Add ground beef, egg, bread crumbs, salt, and pepper, and mix until combined.
Step 6
Place meatloaf mix on a baking sheet and form into a loaf.
Step 7
In a small bowl, combine ketchup, TRUFF Original Hot Sauce, brown sugar and Worcestershire, whisk to combine.
Step 8
Spread glaze over the meatloaf, covering the top, and place in the oven.
Step 9
Bake for 30-35 minutes or until cooked through.
Step 10
Remove from the oven and let rest before slicing and serving.
Step 11
Place potatoes in a pot and cover with water.
Step 12
Bring to a boil and cook until the potatoes are fork tender, 10-12 minutes.
Step 13
Drain potatoes and mash potatoes using a potato masher or fork until slightly smooth.
Step 14
Add butter, sour cream, cream cheese, salt, and pepper and stir to combine.
Step 15
Serve meatloaf with mashed potatoes.
Cook's Notes
Serve this meatloaf with extra creamy mashed potatoes for the perfect meal.