Frosted Chocolate Chip Pumpkin Cookies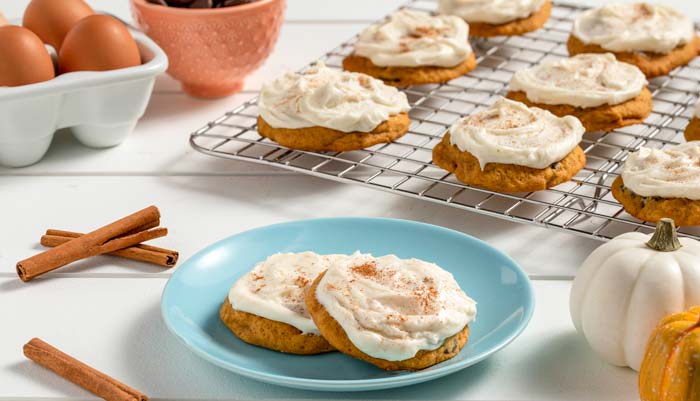 Prep Time: 20 minutes
Cook Time: 24 minutes
Total Time: 44 minutes
Servings: 30
Our Frosted Chocolate Chip Cookies are so soft, studded with chocolate chips, loaded with pumpkin spice, and topped with a fluffy frosting. These cookies are bursting with pumpkin and chocolate flavors.
Directions
Step 1
Preheat oven to 375°F. Line 2 baking sheets with parchment paper.
Step 2
Whisk together flour, baking powder, baking soda, pumpkin pie spice, and salt in a medium bowl.
Step 3
Using a mixer, beat the butter for 2 minutes or until light and creamy. Add the granulated and light brown sugars and beat for 2-3 minutes or until light and fluffy. Add the egg, and mix until evenly combined. Scrape down the sides of the bowl. Add the vanilla and pumpkin, and mix until combined.
Step 4
On low speed, slowly add the flour mixture to the butter mixture until just combined. Mix in the chocolate chips to distribute evenly.
Step 5
Scoop cookies, about 1 1/2 tablespoons each, and place 2-inches apart on the prepared baking sheets. Bake one sheet at a time for 10-12 minutes or until cookies are lightly golden around the edges. Transfer to a wire rack to cool completely.
Step 6
Using a mixer, beat the cream cheese and butter for 2 minutes until smooth and creamy. Add the powdered sugar, vanilla and pumpkin pie spice and beat until combined. Spread the cream cheese frosting over the cooled cookies.