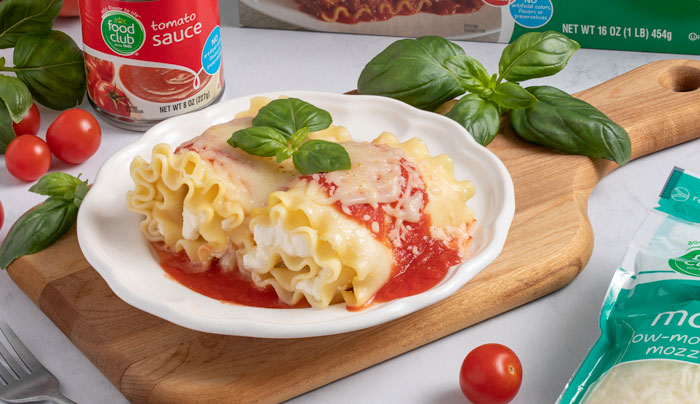 Cook Time: 50 minutes
Total Time: 50 minutes
Servings: 10
Delicious and a time-saver, this will soon be your go-to lasagna recipe. You can even meal-prep and freeze these ahead for quick dinners later!
Directions
Step 1
Prepare pasta according to package directions; drain. Preheat oven to 350ºF.
Step 2
In a medium bowl, blend ricotta, eggs, Parmesan cheese, salt, ground black pepper, and garlic powder.
Step 3
Stir in spinach and 2 cups of mozzarella cheese. Spread the ricotta mixture evenly on the lasagna strips. Roll up each strip.
Step 4
In two 12 x 8-inch baking dishes, spread one-third of the sauce. Place roll-ups seam-side-down in the sauce.
Step 5
Top with remaining sauce. Sprinkle with the remaining 2 cups of mozzarella cheese.
Step 6
Cover. Bake in a 350 degrees F oven until hot, 45 to 50 minutes.