Green Thai Curry with Pan Seared Salmon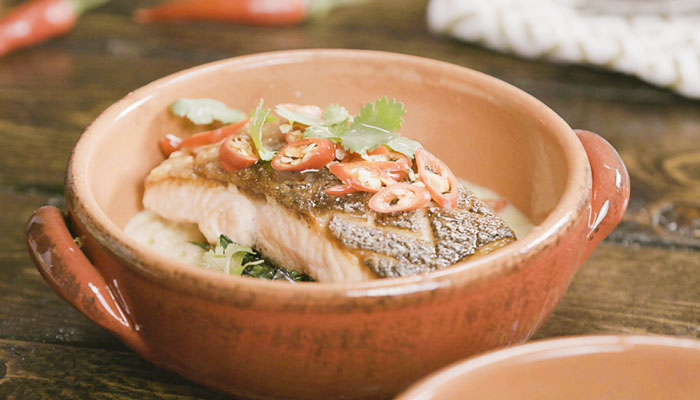 Prep Time: 10 minutes
Cook Time: 20 minutes
Total Time: 30 minutes
Servings: 4
Take your taste buds to Thailand with this comforting salmon green curry dish that's easy enough for weeknight dinners.
Directions
Step 1
Heat 1 Tbsp oil in a large skillet at medium heat. Add the curry paste, stirring for about 1 minute, or until fragrant.
Step 2
Lower heat to medium-low. Add coconut milk, lemon grass, kale, ginger, and garlic. Stir until evenly distributed. Let simmer.
Step 3
Heat a large saucepan over medium-high heat, add the remaining 1 Tbsp olive oil to coat the base.
Step 4
Season the salmon with salt and pepper. Add the salmon to the pan, skin-side down, and cook for 5 minutes. Flip and cook for another 5 minutes. (For well-done salmon, cover the pan and continue cooking for 2 minutes.)
Step 5
Warm rice according to package.
Step 6
Serve the dish in a bowl- with the rice on the bottom, the salmon nestled on top, and the curry ladled over. Garnish with a squeeze of lime, cilantro, and sliced red peppers.