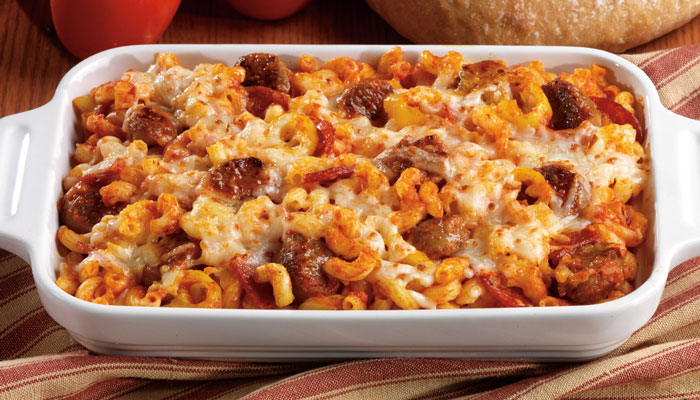 Prep Time: 15 minutes
Cook Time: 20 minutes
Total Time: 35 minutes
Servings: 4
A familiar combination of Italian sausage, pepperoni, macaroni, and pizza sauce the whole family will surely love!
Directions
Step 1
Preheat oven to 400°F. In a nonstick skillet over medium heat, cook both sausages until browned.
Step 2
In large saucepan, cook macaroni according to package directions, and drain.
Step 3
In 9-inch square baking pan, combine sausage, macaroni, pizza sauce, pepperoni, yellow peppers, and 1 cup of cheese. Sprinkle the remaining cheese over the sausage mixture.
Step 4
Cover and bake for 20 to 25 minutes, or until sausage is fully cooked.
Cook's Notes
Can also use two rolls of Bob Evans Italian Sausage instead of Zesty Hot Sausage.