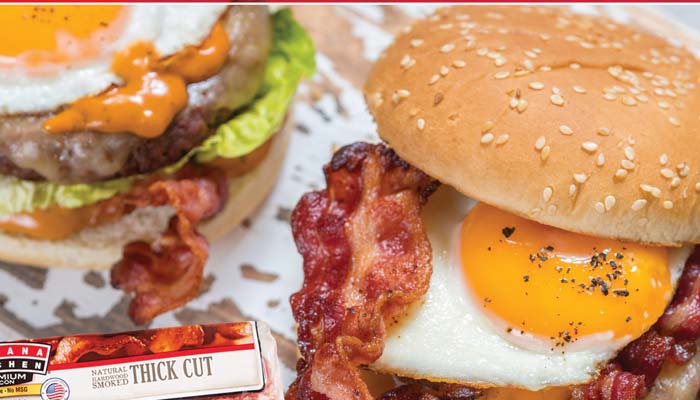 Prep Time: 12 minutes
Cook Time: 12 minutes
Total Time: 24 minutes
Servings: 8
Fire up the grill & celebrate with this American classic--the Farmhouse Burger, topped with a fried egg & Indiana Kitchen bacon! Burger lovers won't know what hit them when you serve this over-the-top burger!
Directions
Step 1
Form the ground beef into eight (8) 1/2-lb patties and then allow the patties to rest in the refrigerator at least 30 minutes.
Step 2
Cook burgers on the griddle about 4 minutes on each side for a medium burger.
Step 3
Add the cheese a minute or two just before removing the burger from the griddle.
Step 4
Set cooked burgers aside to rest for a minute or two. Wipe griddle clear of excess grease and crack eggs, frying until cooked over-easy.
Step 5
Place the burgers on a bun. Layer on a leaf of lettuce and a slice of tomato.
Step 6
Next, add two slices of bacon and then top everything off with a runny fried egg on each burger.