One Skillet Pork Chops with Apples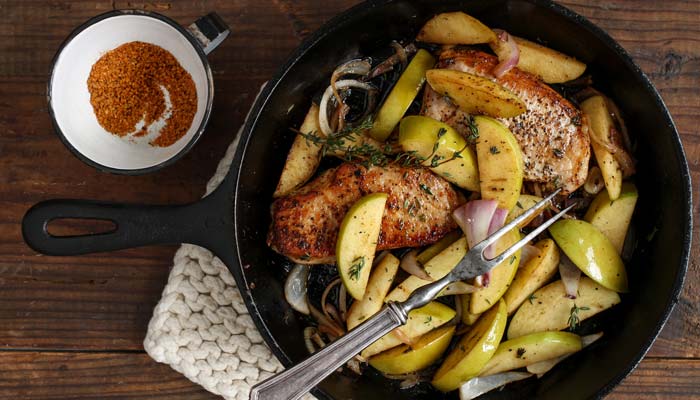 Prep Time: 15 minutes
Cook Time: 30 minutes
Total Time: 45 minutes
Servings: 4
Try this super easy One-Skillet Pork Chops and Apples recipe this week. Tender juicy Boneless Center-Cut Pork Chops with crisp apples cooked in one skillet - convenience never looked so good!
Directions
Step 1
Pat chops dry with a paper towel and liberally coat all sides with BBQ Rub. Let chops sit at room temperature for 15 minutes.
Step 2
In a large cast-iron skillet over medium heat, add olive oil and heat until shimmering.
Step 3
Add chops to the hot skillet and cook for 7 minutes. Flip and cook on the other side for 7 minutes or until the internal temperature reaches 140ºF.
Step 4
Remove chops to a plate to rest.
Step 5
In the same skillet, increase heat to medium-high. Stir in onions and apples.
Step 6
Cook for 4 minutes and add garlic. Continue to cook, stirring, being careful not to burn garlic (reduce heat if necessary).
Step 7
Cook for 3 minutes. Add thyme. Cook another 3 minutes. Add apple cider vinegar to deglaze the pan.
Step 8
Remove skillet from heat and stir in butter.
Step 9
Season to taste with additional BBQ Rub. Return pork to skillet.
Step 10
Serve pork chops in the skillet with seasoned apples spooned over.