Strip Steaks with Shrimp and Scampi Butter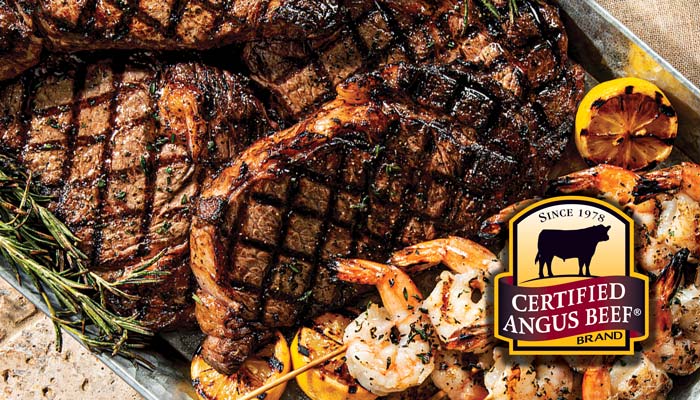 Prep Time: 15 minutes
Cook Time: 20 minutes
Total Time: 35 minutes
Servings: 4
Strip steaks deliciously topped with shrimp and scampi butter. Learn how to cook a surf and turf dinner on the grill with this easy recipe.
Directions
Step 1
Prepare grill by having two heat zones: 1) high heat and 2) medium heat with a medium cast iron pan placed on the grate.
Step 2
Pat shrimp dry with a paper towel. In a mixing bowl, toss shrimp with canola oil, 1-teaspoon salt and 1/2-teaspoon pepper.
Step 3
Season strip steaks with remaining salt and pepper. Grill over high heat 4-5 minutes per side or until they reach an internal temperature of 125°F for medium rare. Allow to rest, tented with foil, while preparing shrimp.
Step 4
Grill shrimp over high heat, 2 minutes on one side. While shrimp grill, add 4-tablespoons butter and garlic to the cast iron pan (over medium heat). Flip shrimp and grill 2 more minutes. Transfer to cast iron pan and stir in parsley and lemon zest; searing 2 more minutes.
Step 5
Remove from heat, stir in remaining 2-tablespoons butter and lemon juice until melted. Serve steaks topped with shrimp and drizzled with scampi butter.