Cilantro Lime Grilled Chicken Kabobs
published Friday, May 20, 2022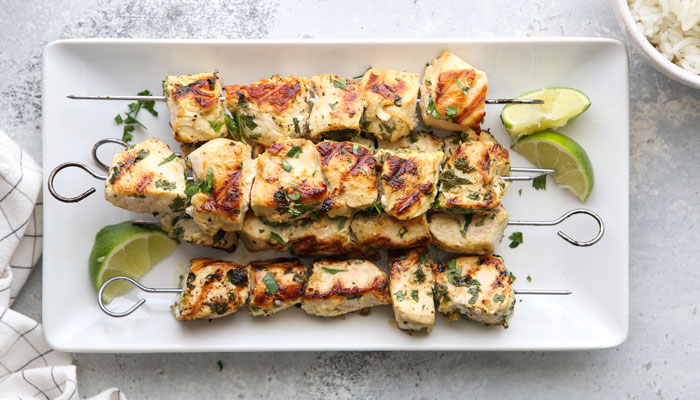 Prep Time: 40 minutes
Cook Time: 10 minutes
Total Time: 50 minutes
Servings: 6
Flavors of cilantro and lime make this recipe sublime. Grilled Cilantro Lime Chicken Kabobs is a great grilling recipe to try out this week for dinner.
Directions
Step 1
Cube chicken into 2-inch pieces and add to a resealable plastic bag.
Step 2
Add olive oil, lime juice and zest, minced garlic, cilantro, salt and pepper to the plastic bag. Use your hands to work ingredients around so the chicken is uniformly covered.
Step 3
Chill in the fridge for at least 30 minutes and up to 24 hours.
Step 4
When ready to cook, pierce chicken cubes onto metal or wood skewers. Discard excess marinade.
Step 5
Preheat a greased grill to medium high heat.
Step 6
Grill chicken until slightly charred and chicken is fully cooked through, about 4-5 minutes per side. Adjust heat as needed. Chicken internal temperature should register 160°F on an instant read thermometer.
Step 7
Serve chicken kabobs immediately with steamed rice, more chopped cilantro, and a squeeze of lime juice.
Cook's Notes
If using wood skewers, soak in water for 30 minutes before assembling kabobs.