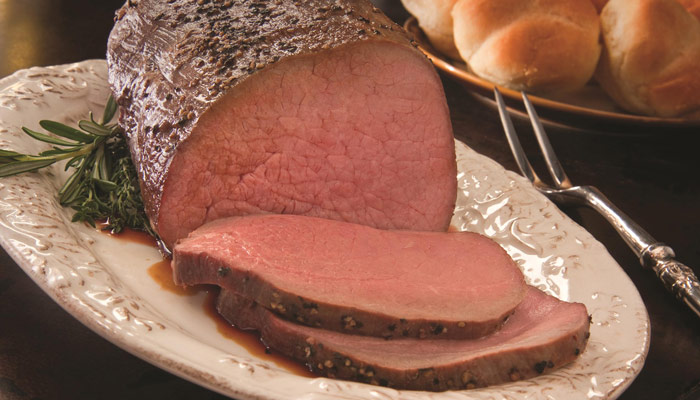 Prep Time: 15 minutes
Cook Time: 75 minutes
Total Time: 90 minutes
Servings: 4
The secret to this cut is to soak overnight in brine for a tender and juicy eye of round roast. It is also the perfect cut to make Beef Jerky!
Directions
Step 1
In a saucepan, combine sugar, salt, pepper, ginger, cinnamon, clove and 1 cup water. Bring to a boil, stirring often to dissolve sugar. Reduce heat and simmer 5 minutes. Remove from heat and add 3 cups ice water.
Step 2
Place eye of round roast in large zipper-locking bag; add brine. Refrigerate overnight.
Step 3
Remove roast from bag and discard brine. Preheat oven to 450°F. Place roast on rack and roast for 15 minutes, then reduce heat to 350°F and continue roasting approximately 1 hour to reach an internal temperature of 125-130°F for medium rare.
Step 4
Remove roast from oven, loosely tent with foil, and rest 10 minutes. Thinly slice across the grain.