Cheesy Crunchy Broccoli Scalloped Potato Casserole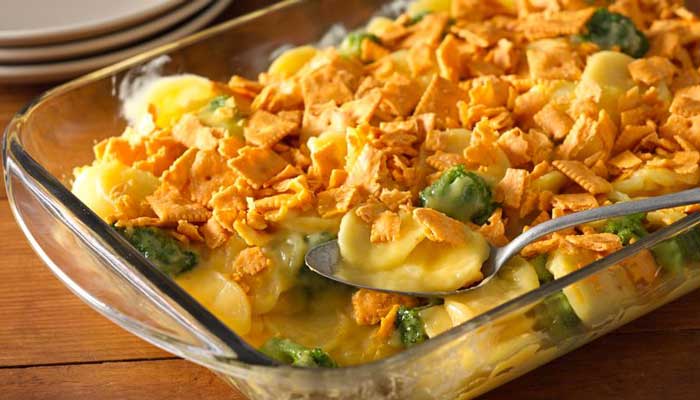 Prep Time: 15 minutes
Cook Time: 35 minutes
Total Time: 50 minutes
Servings: 10
This cheesy potato and broccoli casserole is quick enough for a weeknight meal while delicious enough to serve at your next holiday gathering!
Directions
Step 1
Heat oven to 375°F. Spray 13x9-inch (3-quart) glass baking dish with cooking spray.
Step 2
Make potatoes as directed on box for stove-top directions with 4 cups boiling water, 1-1/3 cup milk and 2 Tbsp butter. Stir in mustard.
Step 3
Add half the potatoes to baking dish, spreading evenly. Sprinkle broccoli over top. Pour remaining potatoes on top of broccoli. Sprinkle crushed crackers on top.
Step 4
Bake 12 to 15 minutes or until sauce is bubbling. Let stand 5 minutes before serving (sauce will thicken as it stands).
Cook's Notes
Fresh broccoli can be substituted for frozen. Cook 10 to 15 minutes longer to ensure broccoli is cooked.