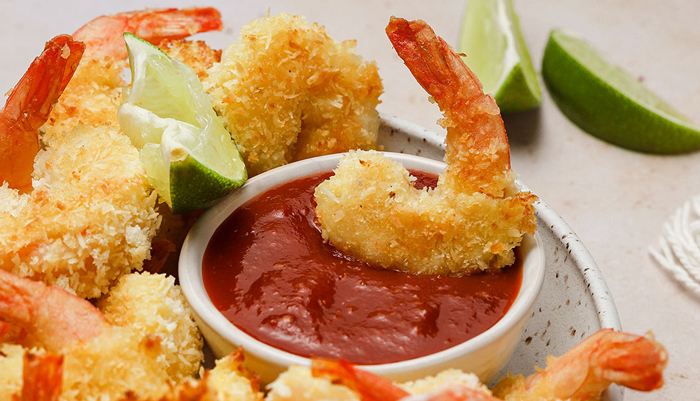 Prep Time: 10 minutes
Cook Time: 12 minutes
Total Time: 22 minutes
Servings: 4
Coconut shrimp is popular at restaurants and so easy to make at home. This healthier version is baked and ready in less than 1/2 hour including prep and baking time. Serve with a sweet chili sauce or Marinara sauce.
Directions
Step 1
Preheat oven to 425° F.
Step 2
Grab three mixing bowls. In the first bowl, whisk eggs then set aside.
Step 3
In the second bowl, combine ¼ cup flour, garlic powder, onion powder, salt, and pepper. Whisk together.
Step 4
In the last mixing bowl, combine shredded coconut, panko, and remaining ¼ cup all purpose flour.
Step 5
Dip each shrimp first in the flour mixture, then the egg, allowing any excess to drip off. Finally, coat evenly on all sides in the shredded coconut mixture.
Step 6
Drizzle 2 Tbsp olive oil on a rimmed baking sheet. Place coconut shrimp on the baking sheet, making sure to leave a little space in between each. Drizzle remaining 2 Tbsp olive oil on top of shrimp.
Step 7
Bake for 10-12 minutes, flipping shrimp once halfway through.
Step 8
Serve immediately with sweet chili sauce or marinara with lime wedges on the side.