Smoked Orange Ginger Salmon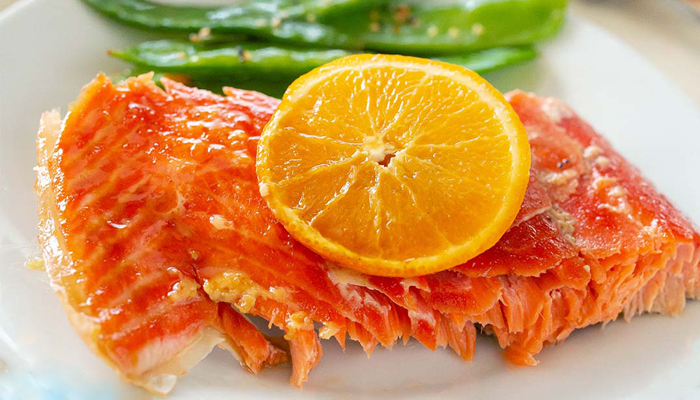 Prep Time: 15 minutes
Cook Time: 90 minutes
Total Time: 105 minutes
Servings: 4
This is an easy and healthy Orange Ginger Salmon with sweet and bright flavors.
Directions
Step 1
Mix brown sugar, salt, and cayenne pepper.
Step 2
Cover the salmon fillet completely with the brown sugar mixture in a baking dish and refrigerate for 4.5 hours.
Step 3
For Glaze: Combine soy sauce, orange juice, ginger, honey, and minced garlic. Bring to a simmer. Continue to simmer until sauce reduces and thickens slightly about 5–6 minutes. Once it has reduced, remove the pot from the heat.
Step 4
After four hours, rinse the fish and pat it dry.
Step 5
Set grill to 225°F.
Step 6
Create a long foil "boat" by folding up the sides of the foil. Then place a thin layer of orange slices inside the boat, and top them with the salmon fillet.
Step 7
Smoke for 90 minutes (or until internal temperature is 145°F).
Step 8
For the last 30 minutes of smoking time, brush fish down with glaze every ten minutes.