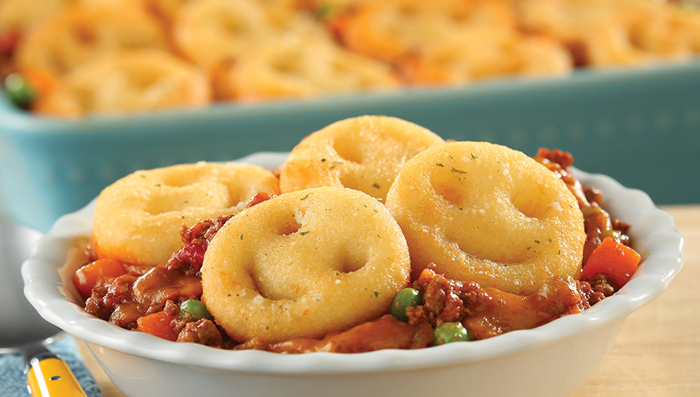 Cook Time: 48 minutes
Total Time: 48 minutes
Servings: 6
This hearty meal is a fun new twist on the classic of cottage pie with a sloppy joe twist. Topped with crispy Smiles potatoes, it's sure to put a smile on the faces of both kids and adults alike.
Directions
Step 1
Preheat oven to 425°F.
Step 2
Brown ground sirloin over medium-high heat; drain. Add onions and beef stock and simmer for about 10 minutes or until onions are tender and beef stock is evaporated. Add peas and carrots blend and sloppy joe sauce and stir to combine. Transfer to 9 x 13 baking dish, coated with non-stick cooking spray, and top with cheese.
Step 3
Bake covered for 30 minutes, add Smiles over top cheese in even layer and bake uncovered for another 8 minutes.
Step 4
Combine melted butter and garlic salt and brush over top each Smile. Serve warm.