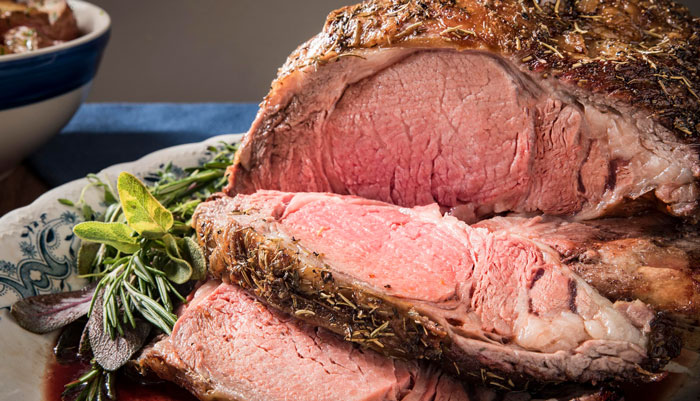 Prep Time: 10 minutes
Cook Time: 135 minutes
Total Time: 145 minutes
Servings: 6
A flavorful crust, simple technique on an easy-to-follow Prime Rib recipe.
Directions
Step 1
Brush entire surface of roast with balsamic vinegar. In a small mixing bowl, combine garlic, salt, pepper, thyme, rosemary and olive oil to make an herb paste. Coat roast evenly with paste, wrap in plastic wrap and refrigerate 30 to 60 minutes.
Step 2
Preheat oven to 450°F. Place roast, fat side up, on a rack in a shallow roasting pan.
Step 3
Place pan in oven for 15 minutes. Reduce heat to 325°F and continue roasting for approximately 2 hours for medium (when thermometer registers 135-140°F), or adjust for desired doneness, checking temperature with a thermometer.
Step 4
Transfer roast to cutting board; loosely tent with foil and let rest 15 to 20 minutes. Slice across the grain.