Slow Cooker Sour Cream and Chive Mashed Potatoes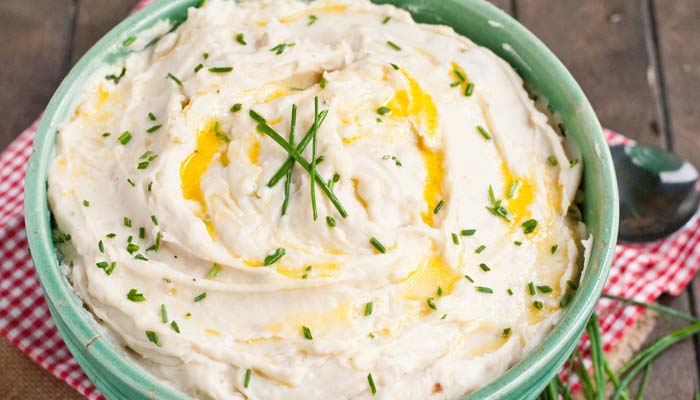 Prep Time: 10 minutes
Cook Time: 300 minutes
Total Time: 310 minutes
Servings: 10
Let your slow cooker do all the work with these fluffy SLOW COOKER Sour Cream and Chive Mashed Potatoes!
Directions
Step 1
Spray the slow cooker insert with nonstick cooking spray.
Step 2
Chop the potatoes into 1-inch pieces and add them to the crock pot. Sprinkle the salt and pepper evenly over the potatoes. Top with 1 1/2 cups milk.
Step 3
Cook on high for 4-5 hours or until potatoes mash easily with a fork.
Step 4
Add the butter spread, sour cream, and additional 1 1/2 cups milk to the slow cooker and use a potato masher to work the liquid into the potatoes. Taste for seasonings and add more salt and pepper if needed.
Step 5
Use an immersion blender to make the potatoes extra smooth if desired.
Step 6
Stir in the chives. To serve, melt more butter over top (if desired) and sprinkle with chives.
Cook's Notes
Recipe and/or photo courtesy of the Idaho Potato Commission and Neighbor Food.