Chicken Parmesan Pasta Bake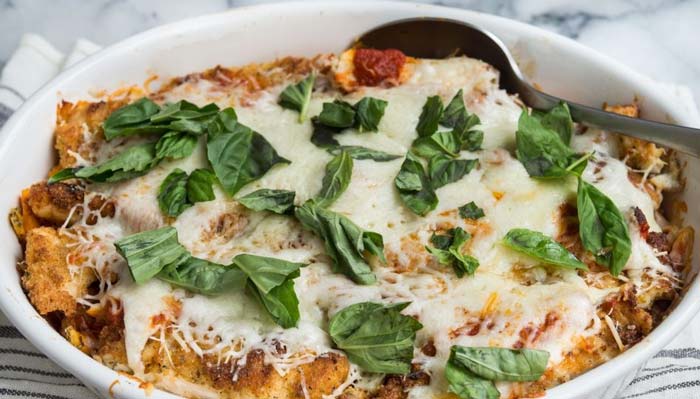 Prep Time: 10 minutes
Cook Time: 30 minutes
Total Time: 40 minutes
Servings: 4
Gooey mozzarella and Parmesan cheeses plus marinara sauce take lightly breaded chicken cutlets to the next level in this one-bowl meal! Ready in 40 minutes!
Directions
Step 1
Preheat oven to 350˚F. Bring pot of salted water to boil. Cook noodles until al dente. Rinse and drain.
Step 2
Pound chicken to about 1/4-inch thick. Season chicken all over with salt and pepper.
Step 3
Place flour, egg and breadcrumbs in separate bowls. Coat chicken in flour, then egg and last bread crumbs.
Step 4
In large skillet, add 1 inch of oil. Heat oil over medium heat. When hot, fry chicken until brown on each side and no longer pink in center. Remove from skillet and place on paper towels to drain. Slice into pieces.
Step 5
In a large bowl, combine cooked pasta, 1 cup mozzarella cheese, 1/2 cup Parmesan cheese and marinara sauce (reserve 1/2 cup of sauce). Mix until combined.
Step 6
Spread pasta in a 9x13-inch casserole dish. Top with chicken pieces. Spread the remaining marinara on top.
Step 7
Sprinkle with remaining mozzarella and Parmesan. Cover with foil. Bake for 15 minutes. Remove foil and continue to bake for about 10 minutes until cheese is melted and casserole is heated through.
Step 8
Garnish with chopped basil. Serve with egg noodles.