Bacon and Ale Skillet Braised Chicken Thighs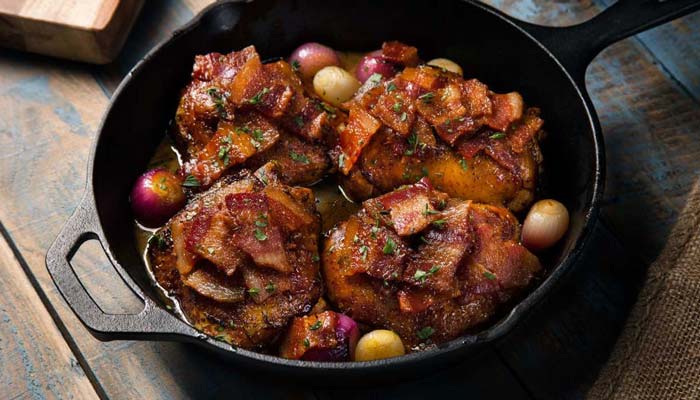 Prep Time: 40 minutes
Cook Time: 60 minutes
Total Time: 100 minutes
Servings: 6
Hand selected, hand trimmed bacon with tender, juicy chicken combine to create this mouth-watering Bacon and Ale Skillet Braised Chicken Thighs recipe your family will love!
Directions
Step 1
Pat chicken thighs on both sides with a paper towel to dry. Season both sides with salt and black pepper and leave them skin side up until you're ready to cook on a baking sheet.
Step 2
Place the cut bacon into a large (preferably cast iron) skillet. Cook bacon over medium heat until crispy brown. Remove the cooked bacon and place aside on paper-towel lined plate.
Step 3
Place chicken thighs, skin side down, into the skillet. Cook over medium heat until golden brown, approximately 7 minutes.
Step 4
Flip the chicken and cook until golden brown, approximately 5 more minutes.
Step 5
Remove the browned chicken from the pan and reserve on a plate.
Step 6
Add shallots to the skillet and brown them gently on all sides, approximately 10 minutes.
Step 7
Drain off the excess fat from your skillet. Add malt vinegar, and reduce by half approximately 1 minute or less. Scrape browned bits from bottom of your skillet with a wooden spoon, rubber spatula, or flat whisk.
Step 8
Add both bottles of beer to the skillet and bring to a boil. Continue to scrape the browned bits from your pan.
Step 9
Add the cooked bacon, chicken (skin side up), and 2 tsp of chopped thyme back into your skillet. Reduce the heat to a simmer and cover, but leave the lid slightly askew to allow steam to escape. Continue to cook at a light simmer until the chicken thighs are cooked through, (20-25 minutes as the cooked chicken must reach 180°F on a meat thermometer for this method).
Step 10
After the chicken is cooked, remove the lid, and serve 1-2 thighs per person with a generous ladle of bacon, onions, and the beer braising juices.
Cook's Notes
Consider complementing your dish with cooked potatoes with a sprinkle with remaining thyme and parsley. If you prefer not cooking with beer, substitute 12 oz. low/no sodium chicken broth for 12 oz. (1 bottle) beer.