Grilled Shrimp Skewers with Lemon and Oregano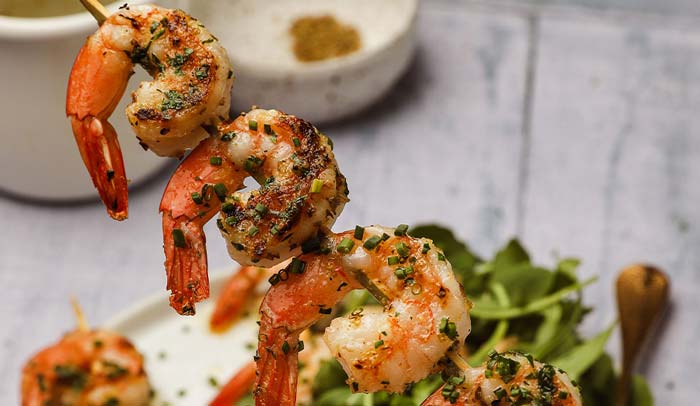 Prep Time: 10 minutes
Cook Time: 6 minutes
Total Time: 16 minutes
Servings: 4
Grilled Shrimp Skewers with Lemon and Oregano make a delicious and healthy dinner or appetizer any time of year! Check out our gluten free, paleo and keto recipe!
Directions
Step 1
Preheat a grill to 450° F.
Step 2
Place shrimp in a large mixing bowl. Drizzle with olive oil, then season with oregano, salt, and pepper.
Step 3
Carefully place shrimp on skewers, securing each shrimp in two places so they don't move around.
Step 4
Thinly slice lemon then set aside.
Step 5
When grill is hot, coat with nonstick grill spray. Place shrimp skewers and lemon slices directly on the grill. Lemon slices will cook for about 1 minute per side. Shrimp will take about 1-2 minutes per side, or until bright pink. Remove from heat and transfer to a serving platter.
Step 6
Meanwhile, melt butter either in a sauce pan on the grill or in a microwave safe bowl. Once melted, add garlic and parsley, then stir to combine.
Step 7
Brush shrimp skewers with melted butter, then garnish with chives.