Cranberry Cornbread Skillet Cake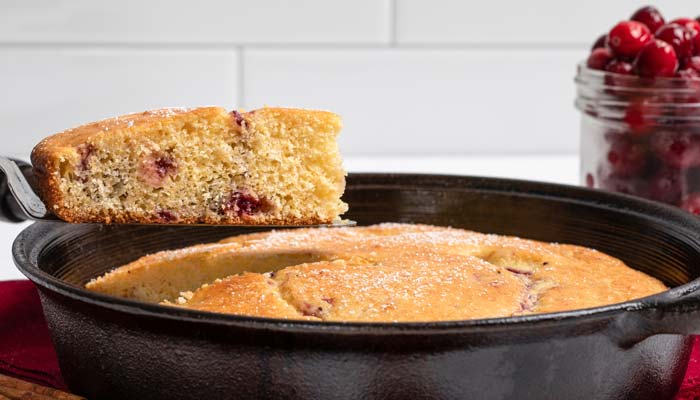 Prep Time: 10 minutes
Cook Time: 25 minutes
Total Time: 35 minutes
Servings: 8
This will be your go-to cornbread recipe during the holidays, dressed up with cranberry sauce with an irresistibly crisp crust when baked in a cast-iron skillet.
Directions
Step 1
Place a 10" oven-proof skillet in the oven and preheat to 400°F. In a large bowl, whisk together 1 egg, 3/4 cup milk, and 2 Tbsp oil. Add 6 oz cornbread mix, 1/2 cup flour, and 1/3 cup sugar and stir until just combined.
Step 2
Remove skillet from oven and add 2 Tbsp butter. When completely melted pour in cornbread mixture and smooth into an even layer. Top with spoonfuls of 1/2 cup cranberry sauce and use a butter knife to swirl into batter.
Step 3
Bake for 20 to 22 minutes, or until a toothpick inserted in the center comes out clean. Let cool completely before slicing and serving with cinnamon whipped cream and cranberry drizzle.
Step 4
Make cinnamon whipped cream by using a hand mixer to beat together 1 cup chilled heavy cream, 1 tsp granulated sugar, 1 tsp vanilla, and 1/2 tsp cinnamon until soft peaks form. Make cranberry drizzle by heating cranberry sauce in a small saucepan along with 1 to 2 tablespoons of water.