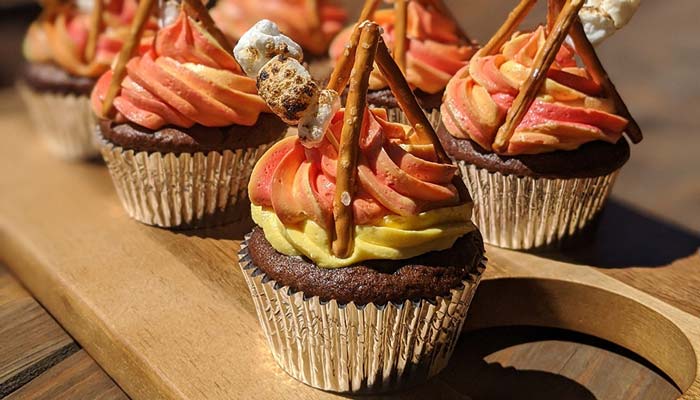 We can't think of anything cuter than these Campfire Cupcakes - complete with roasted marshmallows! Take the campfire wherever you go.
Directions
Step 1
Preheat oven to 350°F and line two muffin pans with 24 cupcake liners.
Step 2
In a large bowl, combine the cake mix, eggs, 1 cup milk and oil. With an electric hand mixer, blend at low speed for 30 seconds to moisten, then beat at medium speed until well blended, about 2 minutes.
Step 3
Divide batter evenly into cupcake liners, filling each to about 2/3 full. Bake until a toothpick inserted into the middle of a cupcake comes out clean, about 18 to 22 minutes. Let cool completely.
Step 4
Meanwhile, in a large bowl beat butter with an electric hand mixer until light and fluffy. Add powdered sugar, one cup at a time, and beat until completely combined. Beat in vanilla and salt. Beat in the remaining 1/3 cup milk, a tablespoon at a time, until desired consistency is reached.
Step 5
Divide the vanilla buttercream frosting between three bowls. Dye one bowl red, one yellow, and one orange. Fit a large pastry bag with a star tip and fill with frosting, alternating between colors. Pipe the swirled buttercream onto the cooled cupcakes to look like fire.
Step 6
Skewer three mini marshmallows on a small wooden skewer and repeat to make 24. If available, use a kitchen torch or a gas stovetop burner to carefully roast the marshmallows.
Step 7
Place three or four pretzel rods around the "fire" to look like firewood and top with the marshmallow sticks.