Mini Pumpkin Layer Cakes
published Thursday, October 7, 2021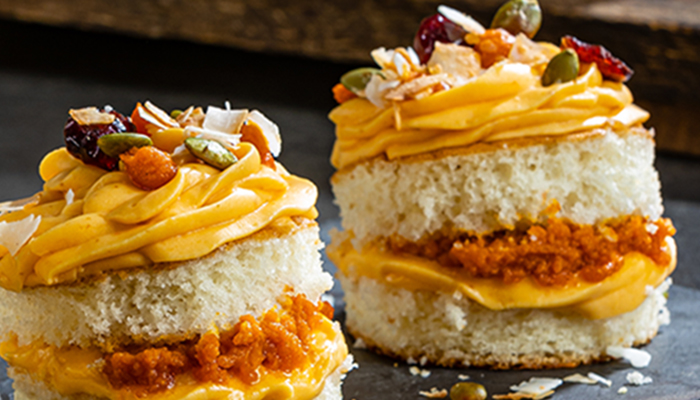 Prep Time: 20 minutes
Cook Time: 25 minutes
Total Time: 45 minutes
Servings: 12
These Mini Pumpkin Layer Cakes with easy home-made pumpkin cream cheese frosting are perfect for any Fall gathering!
Directions
Step 1
Prepare white cake mix with vegetable oil, eggs, and water as directed in greased 9x13 pan. Allow to cool.
Step 2
Beat cream cheese, ¼ cup pumpkin and butter in a large bowl with mixer on medium speed until smooth; gradually beat in powdered sugar.
Step 3
Cut the cooled cake into 12 rounds with 2-inch cutter or glass; slice rounds in half horizontally.
Step 4
Pipe or spread frosting on cake rounds; top each with ¼ teaspoon pumpkin, remaining 12 cake rounds and remaining ¼ teaspoon pumpkin.
Step 5
Garnish with cranberries, pistachio seeds, and/or coconut, if desired. Makes 12 mini layer cakes.