Broiled Supreme Chicken & Mac n Cheese
published Thursday, September 9, 2021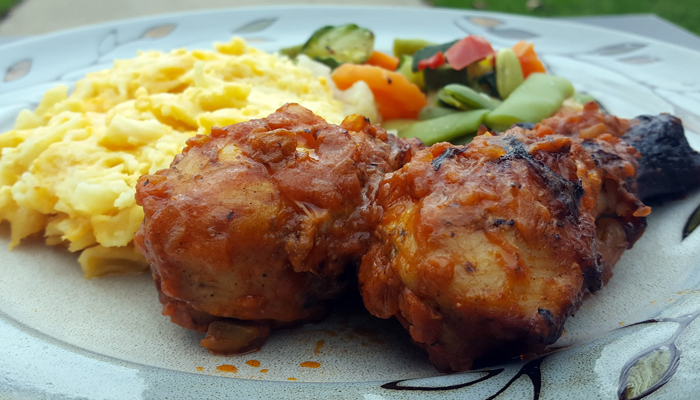 Prep Time: 20 minutes
Cook Time: 30 minutes
Total Time: 50 minutes
Servings: 8
You've never had anything like this Broiled Supreme Chicken & Mac n Cheese! Make it mild or hot for your family with our Buckeye's Best winning Ghana Supreme Sauce!
Directions
Step 1
For Mac n Cheese: Preheat oven to 350°F. Cook macaroni in boiling water for 5 minutes until it softens. Combine HALF of mild and HALF of sharp cheddar cheese with 2.5 cups carnation milk in a saucepan over medium heat, stir until warmed and melted together. Combine macaroni and melted cheese in a large bowl. Add eggs to the mixture. Pour mac n cheese mixture in oven-proof dish and bake in oven for 15 minutes at 350°F.
Step 2
For Broiled Supreme Chicken: Add chicken drums, ginger and garlic, cooking wine and salt and pepper to ziplock bag and let marinade in refrigerator for 30 minutes to overnight. Prepare a baking pan lined with parchment paper or a greased wire rack (cooking rack). Pat dry chicken drums with paper towels, and place the prepared baking pan at least ¼-inch to ½-inch a part so they can air through to be crispy. Broil for 10-15 minutes and then flip them over. Turn over. Broil another 10-15 minutes or until chicken is fully cooked, golden and crispy. Heat Supreme Sauce Marinade in a skillet over medium heat for 2 minutes. Toss broiled chicken to evenly cover. Serve.